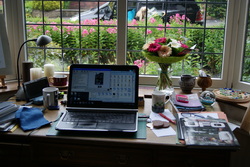 Shortly after I started writing fan-fic, I was given a desk – one that had been in my family home since I was a child. A rather battered but nonetheless elegant desk with brass handles on the drawers and enough space to take my collection of fountain pens and bottles of ink and all the other paraphernalia acquired over the years.
But times change, and a month ago I handed the desk over to my brother. Not because I no longer needed – or wanted – it, but because I was in need of something that made better use of the space available.
And so, I am in limbo here, waiting for my new desk to be finished and installed in my office. I am 'working' (or not working as the case may be!) on a temporary surface, surrounded by stacked folders of works in progress and things to be edited. It's frustrating and irritating and all I can do at the moment is tolerate the mess and look forward to the day (hopefully very soon) when I will be able to sit down at my custom-built desk and have room to work once more.
Oh, and I have a desk light just like this one, ready and waiting for when I get back to writing. Can't wait. 🙂