'Hardened', 'craggy', 'sinister', 'sand-blasted'. Just a few of the  descriptions of George Sewell's features, the actor known to all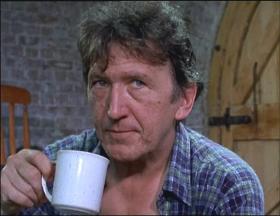 UFO  fans as Colonel Alec Freeman.  It was those 'lived-in' looks that  contrasted so perfectly with Ed Bishop's angelic and androgynous  appearance and helped to make the partnership of Straker/Freeman a  pivotal part of UFO.
But for all his 'shifty' looks, George  Sewell, although never attaining first-rank fame, was a prolific and  popular actor who appeared in many television series as well as films  and theatre productions.
Early Life
George  Sewell was born in London on 31st August, 1924. His mother was from a  family of florists and it is said that George's maternal grandmother had  sold flowers and bird seed on the steps of St Paul's Cathedral. His  father was a printer and George left school aged 14, as was usual at  that time, to learn the trade. However, after the start of WWII, with  the restrictions on printing due to paper shortages, Sewell went to work  instead on helping to repair houses damaged by bombs. In 1943 he joined  the Royal Air Force, but the war ended before he could complete his  training and he was demobbed almost immediately.
Of his time  after the war, Sewell recalled in an interview: 'I went into the Air  Force and afterwards did all kinds of jobs… anything that came along.'  The 'anything that came along' included street photographer, carpenter,  and assistant road manager and drummer in a small rumba band, before he  joined the Merchant Navy as a steward for the Cunard Line on the Queen  Mary and the Queen Elizabeth liners.
He stayed  in the Merchant Navy  for eight years and then became a motor-coach courier for a travel  company, using his knowledge of French and German.
Unlike a lot  of his contemporaries, Sewell had no aspirations to a career as an  actor, and it was not until 1959, at the age of 35 that a chance meeting  with the actor Dudley Sutton led to Sewell auditioning for Joan  Littlewood's Theatre Workshop production of 'Fing's Ain't Wot they Used  T'Be' at the Theatre Royal Stratford East, in 1959. Sutton told Sewell  that Joan Littlewood was searching for a character with his looks to  appear in her new production and assured Sewell that Littlewood didn't  like using actors.
Sewell was given the part of a policeman in  the play, a Cockney comedy with songs by Lionel Bart, which later  transferred to The Garrick Theatre in the West End. This was followed by  another Littlewood-cast role in the comedy, 'Sparrers Can't Sing' in  1960. (Sparrows Can't Sing – U.S.)
He then went on to play Field  Marshall Haig in the Theatre Workshops musical 'Oh! What Lovely War'  which transferred to Paris and Broadway in 1964 – 65 with Sewell also  taking on the role of the Kaiser. Film work followed, with roles in This  Sporting Life (1963) and the film version of 'Sparrer's Can't Sing'  (1963)
Television and Film career
Granada  television producers were quick to notice his potential and he was soon  appearing in tough character roles in many popular series of the 60's  such as  Gideon's Way, Randall and Hopkirk (Deceased), Softly Softly,  and Man in a Suitcase as well as a appearing as Detective Inspector  Brogan in nine episodes of the popular Z-Cars police drama series,  followed by six episodes of The Wednesday Play from 1965 to 1967. He  played Frank Hagaden in ten episodes of 'The Power Game' 1965 to 1966  and numerous other roles in a wide range of programmes. In 1970 Sewell  played Sammy Carson in 'Paul Temple'.
His next television appearance would be as Colonel Alec Freeman.
In  1968 Sewell was cast by Gerry Anderson as EUROSEC Security Chief Mark  Neuman in the futuristic sci-fi film Doppelganger. There, Sewell was  reacquainted with Ed Bishop whom he had come to know through Joan  Littlewood's theatre group, although the two men had not worked  together. The film was not a financial success, but the Andersons had  already cast Ed Bishop as the Commander of what was to become SHADO in  their next television series, UFO, and the rapport between Bishop and  Sewell, during the filming of Doppelganger, made Sewell the Anderson's  first choice for the part of Alec Freeman what was their first live  action series for television.
Recalling his role as Colonel Alec  Freeman, Sewell said recalled that he and Ed Bishop had worked together  in Portugal on the Doppelganger film and had 'just hit it off'.  The  Andersons, Gerry and Sylvia, had been  impressed with the way the two  worked  and decided to use Sewell to develop  the relationship between  Straker and Freeman.
Sewell believed that the part of Alec  Freeman, an  ex-RAF man, was written specifically for him and  expressed his surprise  that Freeman had been described as an Australian in the first script as  he did not play him as such.
In the Sub-Smash commentary, on  the Carlton dvd UK edition, Ed Bishop stated; 'I think he and I played  together very well because our timings were very different. He had that  quick London way of speaking and I had a slower kinder of American  delivery. We always seemed to complement each other and the scenes  together were a lot of exploration.. exposition really. He was a joy to  work with too.'
Sewell played Colonel Alec Freeman in the first  seventeen episodes of the series, leaving when the closure of the MGM  Studios in November 1969 brought the actors' contracts to a close as  well as forcing a break in filming until April 1970. Sewell recalled  that he had been doing a 'fair amount of stuff' at that time. With the  long gap in filming he had other commitments to fulfil and moved on to  another job.
In 1973 Sewell was cast in the third and fourth  series of television's Special Branch, (a role he was later to parody in  the Jasper Carrot/Robert Powell comedy, The Detectives.)
Special  Branch, a gritty ITV drama set in unglamorous locations, had originally  been shot in video for the first two series but was re-vamped for the  third and fourth and attracted up to 20 million viewers. Sewell was in  twenty-five episodes of this programme, which portrayed the  anti-espionage and anti-terrorist department of the London Metropolitan  Police.
Sewell's character, Detective Chief Inspector Alan Craven was a  man trying to retain his morality whilst dealing with high-level  criminal activity. Special Branch led the way for other hard-hitting and  realistic police series, such as The Sweeney (in which Sewell had a  role as a criminal in the series 4 episode titled 'Bait' which was  broadcast in October 1978 ) and Minder.
During this time his film  career continued to prosper, with roles in the gangster movie 'Get  Carter' in 1971 which starred Michael Caine, and Stanley Kubrick's  'Barry Lyndon' in 1975. In 1979 he played Inspector Mendel in the  much-acclaimed television spy thriller series 'Tinker, Tailor, Soldier,  Spy' with  Sir Alec Guinness.
In an interview in 1985 George  Sewell talked about Sci-Fi Conventions and UFO where he spoke about  Colonel Freeman being just a part that he played and that Conventions  were more about the programmes than about the actors. His role as Alec  Freeman had been a very good job, and one that he had enjoyed, but it  was over. However, he did attend the UFORIA convention in 1988  that was  held in London, as well as  Fanderson 1991 in Leeds and Fanderson Gold  in 1996.
George Sewell's career continued to broaden with roles  in Doctor Who in 1988 and a parody of his Special Branch role as  Superintendent Cottam in twenty eight episodes of The Detectives  broadcast in 1993. He continued to be a popular actor and had roles in  many other television programmes such as Paul Temple, Callan, Minder,  Heartbeat and Doctors and in 1998 he was in a revival of the classic  Dial M for Murder.
Sewell enjoyed a busy career and was hardly  ever out of work, either in films, television or the theatre. His work   included musicals such as Oliver! in 1983 and The Wizard of Oz.  In 2002  he toured with Lionel Blair in 'Who Killed Agatha Christie?' and,  looking back, considered himself lucky to have worked so much. Talking  about the stage, he declared that he simply went along and worked for  two hours and it was the easiest job he had ever had.
He was still appearing on television in programmes such as The Bill in 2005 and Casualty in 2006. George  Sewell died on April 2nd 2007 aged 82, leaving his  wife Helen and  daughter Elizabeth as well as a stepson and two granddaughters. His  daughter described him as a wonderful father and grandfather and  Sewell's agent said that one could not have met a nicer or more generous  actor.
He was a  gifted and versatile actor who brought  considerable depth to  the character of Alec Freeman. His loss to the  series after the seventeenth episode was keenly felt by viewers, who had  appreciated the warmth and humanity that he so openly displayed but  George Sewell was an accomplished and instantly  recognisable actor who  could play a comedy role,  as in 'Home James',   with the same ease as  he portrayed tough D.C.I. Alan Craven.
(Previously posted in The Ed Straker Herald: August 2011 by LtCdr)