T'was the night before Christmas and in SHADO's main base,
Ed Straker was working, a frown on his face.
The tinsel was hanging, the presents were wrapped.
Moonbase was active, three UFOs were trapped,
And Foster was flirting with Gay and with Joan
While  Alec was sulking, for once all  alone.
Then in the  control room arose such a clatter
Alec leapt to his feet shouting 'What is the matter!'
Ford turned on his monitor quick as a flash,
And started to search for the source of the crash.
'Nothing on sensors, no enemy  in sight,
No reason to fret sir, it all seems alright.'
But Straker knew better and gave a great shout
Come on everybody, we need to get out!
'Now Ayshea and  Ford and Ellis and Barry,
You need to make haste and  please do not tarry,
And Alec and Ford and Miss Ealand and  Grey.
Everyone come now! Up and away!
Come follow me if you all want a gift!'
He leapt for the stairs, no time for the lift,
'Hurry up Hurry up all!  For goodness sake!'
And they all followed after, even poor Lake.
And there on the roof they espied  such a sight
A  fat little man clothed in red and in white.
His beard was so long it went down to his toes
His cheeks were bright red and so was his nose.
He had a fat belly and a fat throaty laugh.
'Welcome Ed Straker and all of your staff!'
He shouted across from the studio height
'On this the most magic and wonderful  night.
Come gather around my trusty old sleigh
For I have a present for all here today!'
They clustered around him, in surprise and delight.
And stepped up, one by one, for their present that night.
Then Santa blew kisses and climbed on his sleigh
(Towed by eight mini-mobiles) 'I must be away!
Goodnight everyone, Happy Christmas to all.'
And he shook out the reins and gave a great call.
'Come on mini-mobiles, time we must go
We have presents to give, to all of SHADO.
Moonbase is next, the stockings hang ready,
Bradley wants Lego and Joan gets a teddy.
And then we are diving down to the sea,
Where Waterman's crew are waiting for me.
I've presents galore on the back of my sleigh
To deliver tonight so I'll be on my way
So goodbye 'til next year, my dear SHADO Commander!
Keep an eye out for aliens, don't let your mind wander!'
And with one last hurrah, he flew out of sight
To continue his journey on that special night.
While Straker and Alec and all of the crew,
Waved a goodbye as he faded from view.
Then they went back downstairs all merry and bright.
To open their gifts on that most special night.
…………………
So to friends and to fans, I send my best wishes,
For a  Merry Christmas with hugs and with kisses.
……………
Cheers. 😉
LtCdr. still writing.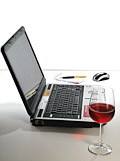 .